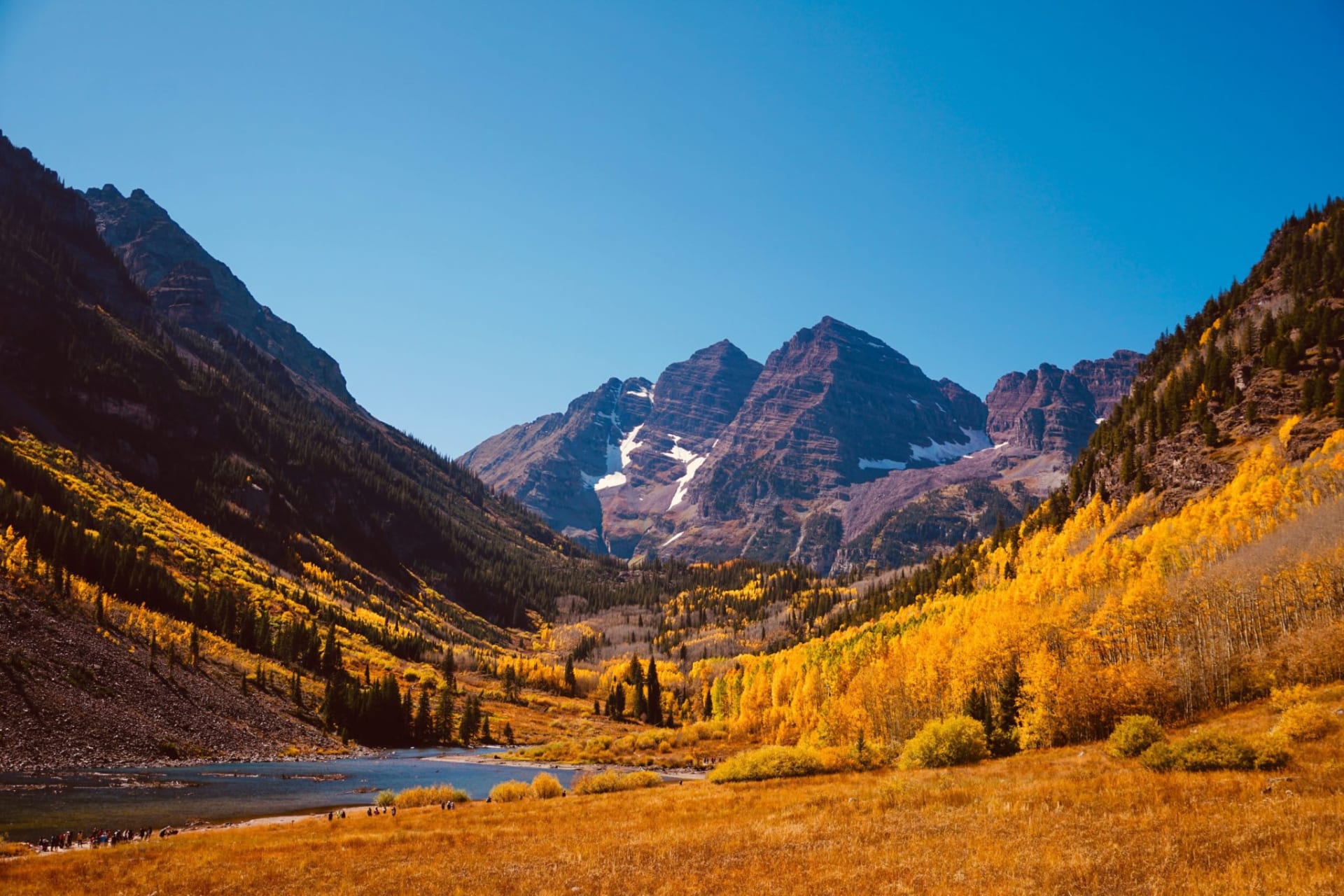 Aspen in the fall is a truly magical sight. The leaves begin to turn as the temperatures begin to drop, and cool, crisp autumn breezes pass through the air in our mountain town every so often. It reminds us it's time to cozy up next to an Aspen fireplace somewhere close by.
However, just because temperatures are starting to drop off doesn't mean it's time to hibernate.
Whether you're a permanent resident of Aspen or just visiting this fall, make sure you throw on a sweater and get outside to enjoy these six can't-miss local Aspen attractions.
1. Food & Wine Classic
For three full days between September 10 and September 12,
The Classic in Aspen festival
, presented by the world-renowned food publication Food & Wine, will host wine tastings, culinary demonstrations, seminars, dinners, and more all right here in downtown Aspen.
This joyous celebration of fine food and wine is a festival typically scheduled for June. However, due to COVID complications, it was temporarily rescheduled to September this year.
From Friday through to Sunday, festival-goers will have the pleasure of attending a wide selection of food and wine-based events and seminars held by the likes of Martha Stewart, Andrew Zimmern, Kwame Onwuachi, Guy Fieri, and the legendary Rodney Scott.
Between events, attendees can explore the numerous tents and stands sampling creative foods and world-class wines from around the globe. If you're as into food and wine as we are, this is an absolute must-go Aspen festival.
Want to know more about what it's like to live with all of these amazing activities and amenities all within arm's reach? Learn more about life in Aspen here:
2. Go Sightseeing On The Gondola
One of the best ways to take in Aspen for all of its autumn beauty is from the high mountain peaks of Aspen Snowmass. And certainly, the best way to do that is via the Aspen Snowmass Gondola.
Whether you board the mountain gondolas departing from the base of Aspen Mountain or Snowmass Mountain, you'll be whisked over 11,000 feet into the sky upwards towards the peak of Snowmass. On your way up, breathtaking vistas and 360-degree views of Aspen, Snowmass Mountain, and all of the surrounding areas unfold right in front of your eyes.
If you're one of the many who travel to Aspen to enjoy our magnificent array of autumn foliage, this is the perfect activity to take in and appreciate the vibrant colors of the turning mountain leaves.
With gondolas operating regularly from Friday to Sunday between September 10 and October 3, this is the ideal weekend activity to get back to nature and enjoy some stunning high-altitude perspectives of Aspen. Book your
gondola passes here
!
3. Snowmass Balloon Festival
Running for its 46th straight year, Aspen's very own
Snowmass Balloon Festival
will take place from Snowmass Village between September 10 and 12. Truly a sight to behold, hundreds of vivid and colorful hot air balloons fill the Aspen sky during this iconic festival.
With enormous hot air balloons launching up into the air between 7 a.m. and 9 a.m. every morning from Friday through to Sunday, spectators can walk, drive, or ride into the Snowmass Village launch area to view the show.
This completely free event includes launch morning access during all three mornings, food and coffee from Gitsie's food truck, and a Friday evening Balloon Night Glow. If you haven't visited this spectacular Aspen event yet, make sure you don't miss out this year — it always promises to be something special.
If you can believe it, the community of Snowmass Village is even more charming than its annual balloon festival. Learn more about what it's like to live there in our
Snowmass Village Community Guide here
.
4. Go Horseback Riding
Another fantastic way to take in Aspen's nearby mountain ranges and stunning countryside in all of its autumn glory is via horseback.
With various outfitters and guides available across different starting points within our local Roaring Fork Valley, taking a
guided horseback ride
through our mountainous trails is not only safe but very easy too.
Riders of all different skill levels can enjoy glorious views of Aspen in the fall from up high on the saddle while touring around some of our most beautiful local nature trails. Whether you sign up for a full-day event or a shorter one-hour ride, we're sure you'll get a massive kick out of your horseback riding adventure in Aspen.
The Roaring For Valley is known for much more than just its top-class trails. Learn more about what it's like to Live in
The Roaring Fork Valley here
!
5. Explore Our Hiking Trails
Alternatively, if you prefer to enjoy Aspen's many surrounding mountains and intricate trails at your own pace, our plethora of
foot trail systems
are also always here for you to explore.
Just a few minutes away from downtown Aspen, hikers, runners, or even bikers commonly enjoy celebrated trails such as Rio Grande Trail East, Smuggler Mountain Trail, White River Ajaz Trail, and the Hunter Creek trails, among many others.
And, if you're willing to venture just a few more minutes away from downtown Aspen, your selection of top-class trails becomes even wider! Although ski season in the winter tends to catch all of the acclaim in Aspen, our hiking trails in the warmer months and well into mid-fall are spectacularly underrated. Come see what we mean for yourself!
Are you sold on the sound of our irresistible Aspen lifestyle? Have a look through our collection of covetable Aspen exclusive listings, then
contact us
for a no-obligation buyer consultation to tell us more about what you're looking for.