Aspen has an impressive and long history of fostering the arts. As early as 1945, a Chicago businessman, Walter Paepcke, decided to transform the town into a refined arts retreat. He recruited Walter Gropius – architect and founder of the Bauhaus group – to move to Aspen and redefine its cultural landscape. Bauhaus completed a stunning redesign and restoration of the Wheeler Opera House and the Aspen Institute. It didn't take long for word to spread, and the town soon filled with artists and intellectuals. Aspen houses for sale could hardly keep up.

Today, Aspen's arts and culture scene rivals those in major cities. You can find experiences here which attract visitors from all over the world because there is nothing like it anywhere else. From fine arts to ballet, from live music to theater and film, Aspen has it all.
Here are some of the best cultural experiences in Aspen
There are so many noteworthy experiences in Aspen, but these are the ones you should mark your calendar for and plan a visit to see – which will make you wonder if you should live here.

The Belly Up Aspen
The must-see hot spot for live music is
Belly Up Aspen
. Whether you are renting a condo or looking for Aspen condos for sale, a visit to this lively venue is highly recommended. Since 2005, they have routinely drawn major music headliners. To give you a sample of the 2022 lineup, Drive-By Truckers is celebrating their 25th birthday and their 12th album,
The Unraveling
, which has been declared by
Rolling Stone
as the "Album of the Year." This is a highly anticipated concert and a highlight of the season due to their large grassroots following. April kicks off with Yola, whose album
Walk Through Fire
earned four Grammy nominations, while the Icelandic rock band KALEO – they have sold out shows from London to Moscow, so get your tickets early – performs in May, and Andrew Bird hits the stage in June. Bird is an internationally acclaimed multi-instrumentalist and vocalist headlining at Carnegie Hall and Sydney Opera House and is now scheduled to perform at the town's very own Belly Up Aspen.

Jazz Aspen Snowmass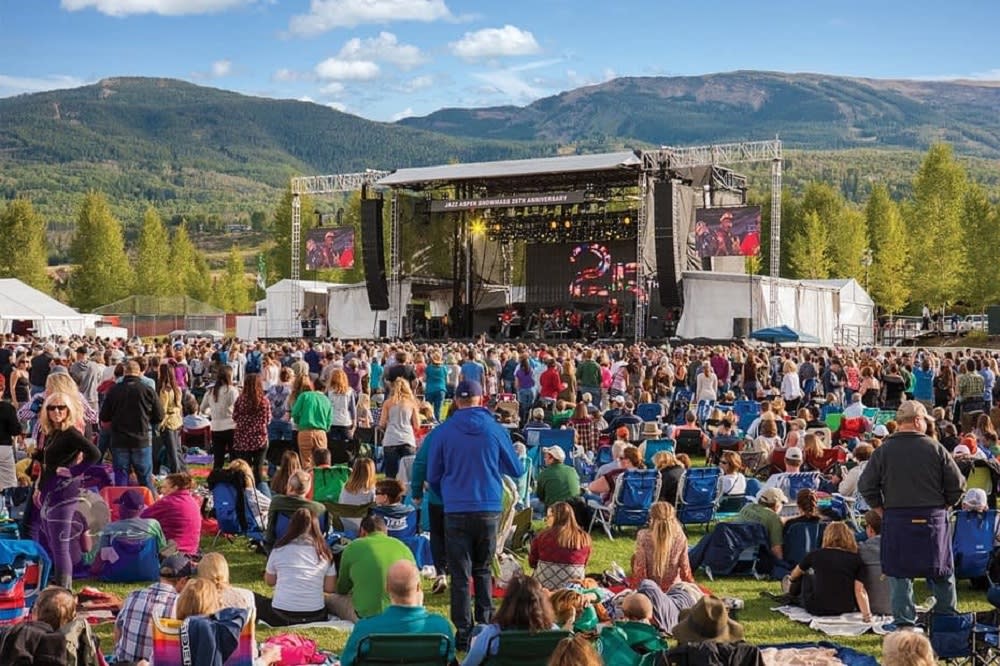 The
Jazz Aspen Snowmass
brings world-class festivals and performances to the mountain community and is one of the events which often sparks the idea of purchasing Aspen houses for sale to use as vacation homes. The primary festivals to put on your calendar are the June Experience and the Labor Day Experience. The first is a lineup of forty performances in ten different venues while Stevie Nicks, Chris Stapleton, Leon Bridges, and more are featured at the Labor Day Experience. Throughout the year, you can enjoy candlelit performances from some of the best jazz artists at the Jas Café, as the venue is consistently recognized for the unique, world-class music they support. As a non-profit organization, Jazz Aspen provides educational opportunities year-round for all age groups.

Wheeler Opera House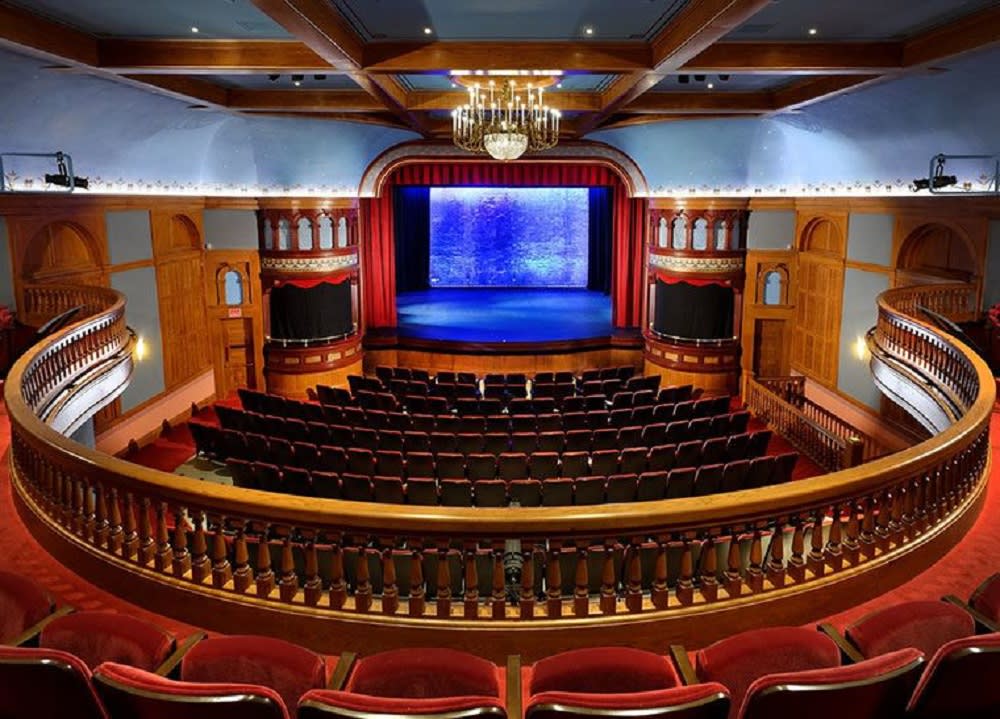 The Eagles, Oprah Winfrey, Jerry Seinfeld, and Sheryl Crow are just a few of the artists who have graced the stage of the
Wheeler Opera House
. Since 1889, it has been the heart of the community featuring local performances, opera, concerts, community events, and more. In March, DanceAspen presents "Elevated" – a show of dance-inspired artistry with innovation and athleticism. Additionally, the storybook staging of Massenet's Cinderella takes the stage with a delightful cast as part of the opera's Live in HD production series. Upstairs, overlooking the Aspen Mountains, is The Vault – an event space with an intimate stage that can seat up to a hundred guests.

Aspen Institute
The goal of the
Aspen Institute
is to provoke actions to improve the world. They bring scholars, thought leaders, and members of the public together to discuss some of the most complex problems in a nonpartisan environment. They host events such as the Teen Socrates Seminar to enhance leadership, critical thinking, and problem-solving skills for high school students. For adults, there are events like the Edlis Neeson Great Decisions series where key foreign policy or climate change issues are discussed. Their programs earned an international reputation for creating a space for people to come together and work toward a greater good and is an example of the kind of community you will find if you are considering a move and looking for Aspen houses for sale.

Aspen Music Festival and School
Photo courtesy of Aspen Daily News
The
Aspen Music Festival and School
provides professional one-on-one instruction combined with professional performances and ticketed and free events for the whole family. Over six hundred students participate in five orchestras, an opera, master classes and lectures, and dozens of chamber music studies. Housing is not provided, so turning one of the Aspen condos for sale into a rental can provide a place for the students traveling here for the festivals. Students can attend, and possibly even perform, in one of the four hundred master performances, as the festival is open to anyone of any age and any skill level. There are opportunities for students to learn year-round in the afterschool and summer programs, such as the Winter Music Recitals, which is currently running. On March 3rd, violinist Simone Porter and pianist Hsin-I Huang will perform as well.

Red Brick Center for the Arts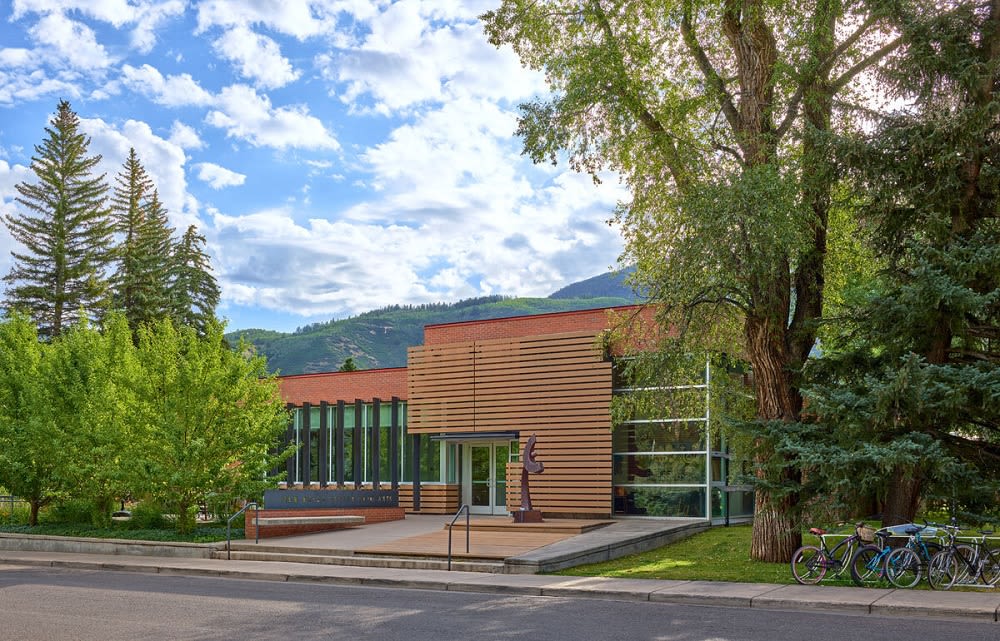 A vibrant community center, the
Red Brick Center for the Arts
provides an affordable shared space for artists. Many artists move here and look for Aspen houses for sale because they can thrive in this location. Red Brick is a long-term home for the arts and for nonprofit organizations, providing ample opportunities for kids and adults to learn and grow in the arts. They have a summer camp where children practice a variety of art mediums and yearly after-school programs, which give elementary students the space to be creative and have fun with art. Pre-Kindergarten classes are free for the student and parent, allowing adults and their children to learn new techniques such as watercolor, drawing, knitting, painting, and more. The Art Gallery is open to the public and showcases work by local artists.

Theatre Aspen
In the heart of Rio Grande Park, not far from Aspen condos for sale,
Theatre Aspen
holds professional productions in the fresh mountain air while still being protected from the elements. In March, "You On the Moors Now" takes the stage – an exciting production that turns
Pride and Prejudice
,
Jane Eyre
, and
Little Women
upside down. In this 19th century version, the heroines turn down their marriage proposals and set conventionalism ablaze. Tony Award Winner, Laura Benanti, performs a concert in March, and more shows are coming soon. Educational opportunities are available for students with professional teachers, and no student is turned away for any needs or assistive accommodations.

Aspen Art Museum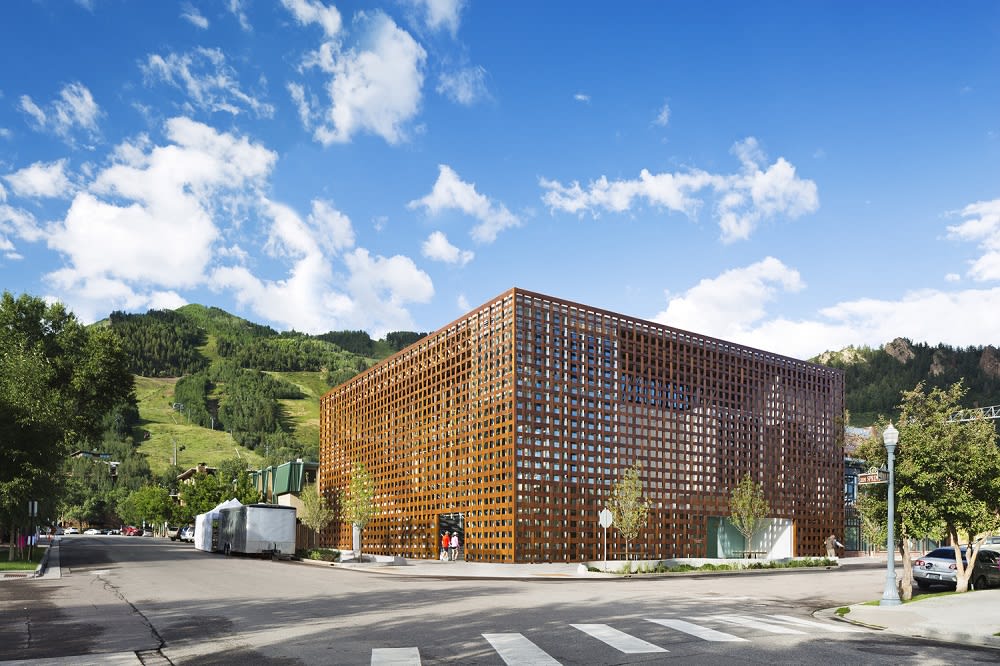 Photo courtesy of Arch Daily
Established in 1979 and designed by Japanese architect and humanitarian,
Shigeru Ban
, the
Aspen Art Museum
is a non-collecting contemporary art museum in Aspen. It is located on the corner of South Spring Street and East Hyman Avenue in Aspen's downtown core. The museum includes an exhibition space, a rooftop deck, sculpture garden, educational spaces, bookstore and shop, cafe, and more. It is a square-shaped forty-seven-foot-high structure with a façade of wood strips woven together like a wicker bin. The rooftop deck has a café and great views of the mountains. Since admission to the historical center is free, the deck acts as a public park and has quickly become a popular summer performance venue. Innovative and timely exhibitions, immersive activities, and public projects draw in crowds that celebrate the local workmanship and culture. Also, the museum hosts lectures, artist talks, movies, performances, and family-friendly activities throughout the year, in addition to a selection of unique exhibits by internationally known artists. Here you can enjoy a vibrant area set against the backdrop of a globally famous modern art museum with unrivaled views of Aspen.
Looking for Aspen, CO homes for sale?
If you have questions about moving or finding vacation property in Aspen, please don't hesitate to reach out to
The Bineau Team
for expert guidance. They would love to show you Aspen houses for sale and make your move as easy as possible!

*Header photo courtesy of Belly Up Aspen