Colorado embodies the Old West along with the wonders of innovation and technology. Vast, sweeping mountain vistas reach into the clouds, and an abundance of woods and valleys to explore create an expanse of land that calls to the wild side of every heart. With its picturesque views and charming homes, Woody Creek is the quintessential Western, nestled close to the wilderness and elegance that make up Aspen, Colorado. Woody Creek is a neighborhood like no other, and
The Bineau Team
, with our avid attention to detail, experience, and knowledge, will help you find the perfect home in the area.
What to know about Woody Creek
Woody Creek is a delightfully elegant town located just ten minutes from Aspen, unincorporated and steeped in unique history. Woody Creek offers a multitude of wide-open spaces and breathtaking vistas. The area itself is full of charming, warm, and welcoming citizens, happy to chat with you about their town, their life in Woody Creek, or share a story they have garnered somewhere along the way.


The community is comprised of a lovely mix of artists of all different types of genres, including creatives and storytellers. It is one of the top equestrian-minded neighborhoods in the Aspen area. The neighborhood itself is composed of approximately 400 acres; however, it feels much more extensive with its vast views and open spaces. The locals are sure to make you feel the warmth and welcome of a small town.
Woody Creek Ranches
Woody Creek is a prime example of the scope and beauty that Colorado has come to be known for. If you are interested in Aspen real estate and all that comes with owning a piece of the West, a ranch in Woody Creek may be the perfect home for you and your family. Ranches in Woody Creek come in various sizes, with copious amounts of land and many improvements and upgrades that make these ranches something special. They also have the possibility of adding additional building sites that are simply waiting for your planning and creation. You can plan, build, and enjoy whatever buildings, homes, and structures your mind can create for your dream ranch.


Woody Creek ranches are also close to the National Forest, granting the owners of these properties specialized and individualized access to hunting, hiking, riding, snowshoeing, cross country skiing, and much more. The ranches in Woody Creek hold all of the magnificence and wonder of the Old West, such as wildflower-decorated meadows and babbling brooks. Every ranch has spectacular views that are sure to win your heart, all of which benefit from being close to next-level amenities. In addition, Woody Creek is one of the premier equestrian facilities in the Aspen area. There are a plethora of equine-friendly trails, clubs, and competitions for those who have a passion for all things horse-related. Woody Creek ranches are an authentic taste of the Old West perfectly combined with the amenities, innovation, and technology that bring past traditions into the future.
Things to enjoy and explore
Woody Creek is a town that is steeped in history, culture, charm, and fun. There are many aspects to Woody Creek that make it a unique place, ideal for those with an untameable heart. Besides the aforementioned equine activities, wide-open spaces, and proximity to Aspen, Woody Creek has additional qualities and characteristics that make it stand out in the multitude of Aspen real estate listings.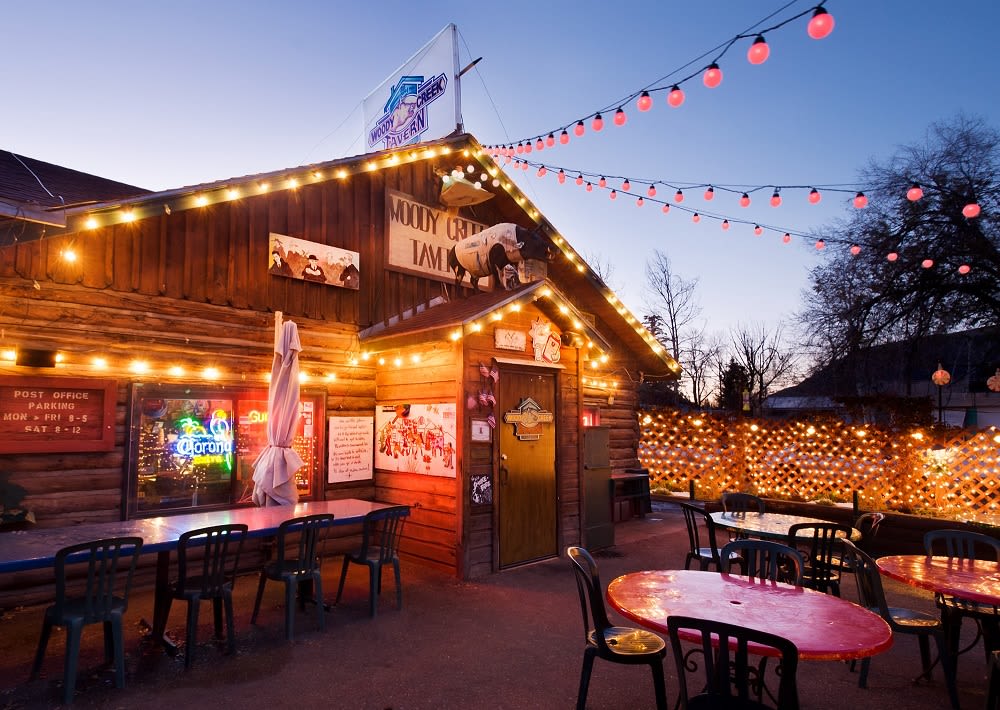 One of the many things we love about Woody Creek is the historic
Woody Creek Tavern
. This fantastic tavern is decorated in a collage that represents and spans 40 years of history, memorabilia, and charm. There are Polaroids all over the walls, pressed tin ceilings, and warm conversations floating luxuriously about the tavern. Founded in 1980, the Woody Creek Tavern was an instant hit and became the watering hole the locals returned to again and again. The tavern has a warm, welcoming Old West charm with some of the most delicious, down-to-earth comfort food you'll ever enjoy.
The Bineau Team
would be happy to join you in a mile-high burger while we discuss what you would like to have in your Woody Ranch home.
Another thing we love about the Woody Creek area is its accessibility to the great outdoors. Fishing, biking, hiking, cross-country skiing, and much more await your arrival. There is an abundance of trails and adventures to partake in and explore. There is also access to great fishing along the Roaring Fork River, and you can go biking along any number of trails, including the Rio Grande Trail. The National Park is close to many Woody Creek ranches and is open to the public for horseback riding, hiking, biking, and other outdoor pursuits. You can embark on these experiences and adventures on your own or take advantage of the many experienced guides and professionals. Woody Creek allows you to enjoy the beauty of nature in a place of genuine, unrivaled beauty.
A glimpse at Woody Creek life
Every day in Woody Creek feels like awakening to a hidden getaway that you have been whisked away to on a whim. The friendly vibe and small size make Woody Creek feel like it is a new and wondrous world all its own. There is a surplus of outdoor activities to partake in daily. It doesn't take long before the great outdoors become a natural part of your everyday life. Picturesque vistas, relaxing trail rides through mountains and meadows, and skiing on some of the greatest slopes in the world are all just a part of everyday life in Woody Creek.


In contrast, if you are looking for something a little more extreme, there is also the Aspen Motorsports Park. This 1.1-mile track is home to the
Sports Car Club of America
(SCCA) and the
Aspen Racing and Racing Sports Car Club
. This spectacular motorsports park also boasts a members-only racing experience that is sure to put you back in your seat and make your heart skip a beat. If you have a passion for motorsport, this is the place for you. And the best part? You can have the peace and quiet of your dream ranch and still let the horses loose in your car's engine on a track day at Aspen Motorsports Park.
These are just a sliver of the things that comprise everyday life in Woody Creek and lend themselves to being a fantastic place to live, play, and be in each and every moment of your life.
Things to do in and around Woody Creek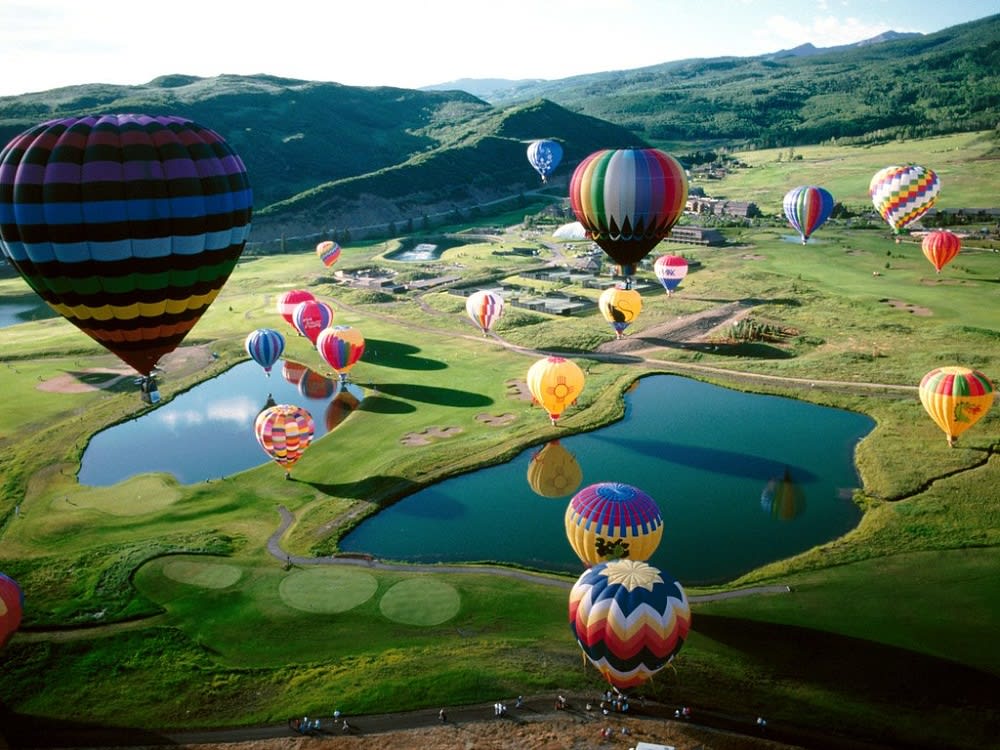 Summer brings sunshine, warmth, and the
Snowmass Rodeo.
This fantastic event hosts a bevy of equestrian events and demonstrations, with cowboys and cowgirls that come from all over to participate in rodeo events such as team roping, calf roping, barrel racing, bareback riding, saddle bronc riding, and bull-riding.
However, the main event of the summer season is the Summer Concert Series. This series has been entertaining the residents of Woody Creek and the surrounding area for over 30 years. Fanny Hill in Snowmass Village offers free concerts with beer, wine, and food from local restaurants every Thursday evening in the summer. There is also the Jazz Aspen Snowmass Festival, which rounds out the summer season on Labor Day and is host to hundreds of area and national jazz musicians to spread the joy of jazz to the Woody Creek community.


A notable fall-time event is the
Snowmass Balloon Festival
. This event is held in September when the foliage starts to turn, and Colorado is an explosion of color amid a season change. The festival has been held for the last 46 years and occurs over the course of three days. During that time, the sky is awash with the vibrant colors and patterns of an array of hot air balloons. The Balloon Night Glow wraps up the festival at the end of the last evening, saying goodbye until next year in a luminous glow of light.
Is a Woody Creek ranch right for you?
Woody Creek combines Old West traditions with new-age innovation and technology. Vast and stunning sights will fill your every sense as you take in the sights and let the warmth of this charming small town envelop you. If adventure, the Great Outdoors, the Old West, and modern-day amenities appeal to you, then Woody Creek may just be the perfect place for you. The
Bineau Team
has deep knowledge regarding Woody Creek and the surrounding area and would be happy to help you find the Woody Creek ranch of your dreams.