Aspen is known for its beautiful homes, offering styles suitable for every discerning home buyer. You can find everything from rustic mountain homes to lavish contemporary estates in this phenomenal city.


The architecture found in
Aspen real estate
is sophisticated and distinct to the region. World-class architects fell in love with Aspen's potential and breathtaking mountainous surroundings, melding their architectural insight seamlessly with the natural landscape that envelops the city. Here are some popular home architectural styles you'll find around town.
Bauhaus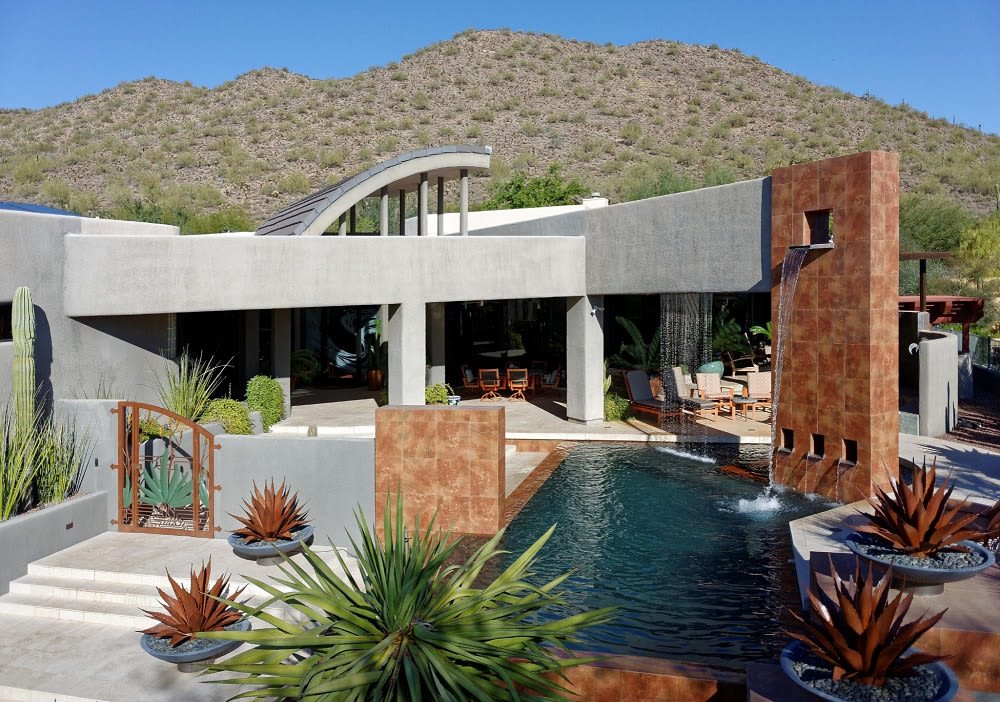 What started as a German school of design, architecture, and applied arts, became known as a contemporary form of architecture. Art and function collide with the Bauhaus architectural style. Founded by the architect Walter Gropius, Bauhaus, or "house of building," is a style combining various crafts, seeking to end the separation between art and expert craftsmanship.
Bauhaus came to Aspen
when Walter Paepcke visited in 1945 and invited his friend Walter Gropius to visit and design a master plan to guide Aspen's restoration and growth. Since Gropius wasn't interested, a different Bauhaus alumnus, Herbert Bayer, took up the significant project, working with Paepcke to transform Aspen into a flourishing cultural hub and luxury ski destination.
The modern Bauhaus style is based on several
fundamental characteristics
, with holistic design being a key feature, integrating the school's techniques into everyday life and design. Bauhaus features little to no ornamentation, with streamlined design at its forefront. Many Bauhaus-style homes have flat roofs to appear geometric, tubular chairs for a playful yet functional addition, and generally integrate geometry throughout with abstract shapes used sparingly for decoration. Like its design, the colors used are simple, including white, gray, and beige. Industrialism is a core element in Bauhaus, so its architecture typically incorporates very few modern materials, such as glass, concrete, and steel. Last and certainly not least, asymmetry is used to create visual balance, managing to use the same elements throughout the building without making both sides symmetrical.
Pan Abode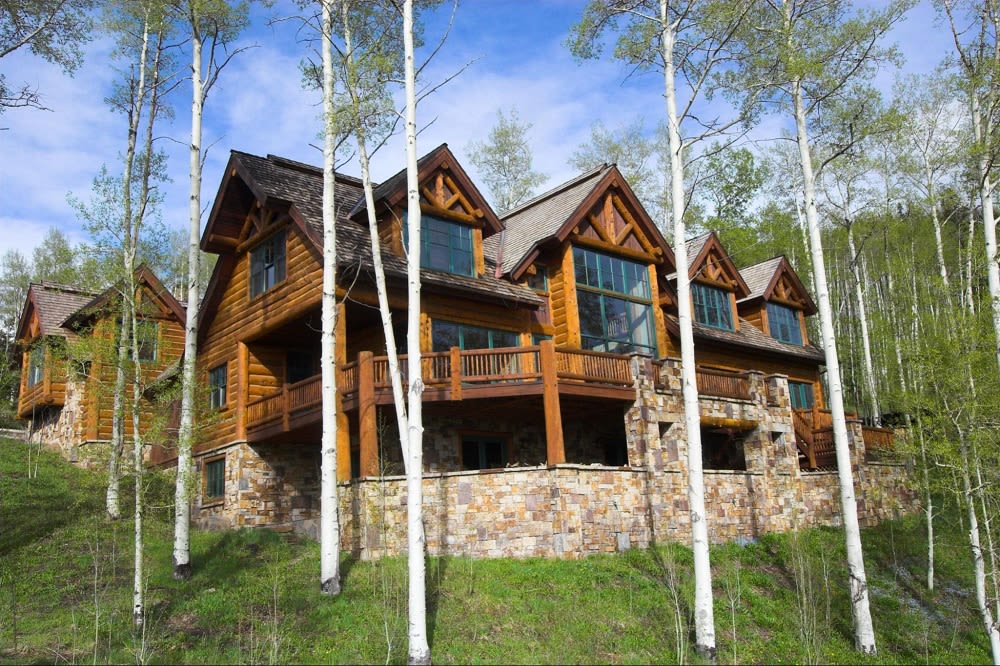 Constructed from milled Western Red Cedar logs,
Pan Abode
is a company that sells low-expansion properties built to resist swelling, shrinking, and warping from drastic temperature changes. Additionally, cedar timber provides good insulation, a key feature in Pan Abode homes since the only insulation comes from the three-inch thickness of the logs. This style was developed in the 1950s and lured people with its inexpensive DIY kits, allowing people to build their own homes from the bottom up with logs that cost a fraction of Aspen homes for sale.
The Pan Abode logs manufactured in the Renton factory between 1952 and 1970 were milled in 3"x6" rectangular logs with flat edges to create a relatively flat exterior and interior wall surface. The ends of the logs interlocked in a style the
Pan Abode Cedar Homes
called the "Classic Notch" solid wall system. The vertical notch became the style's iconic, distinguishing characteristic. By the 1960s, Pan Abode was the most popular rustic-style architecture in Aspen. Pan Abode buildings included primary and secondary homes, lodges, apartment buildings, and rental units. While most Pan Abode buildings in Aspen lacked ornamentation, some include scalloped curves, deep overhangs, vergeboard fascia, cut-out patterns at the railing, window trim, and decorative shutters.
Victorian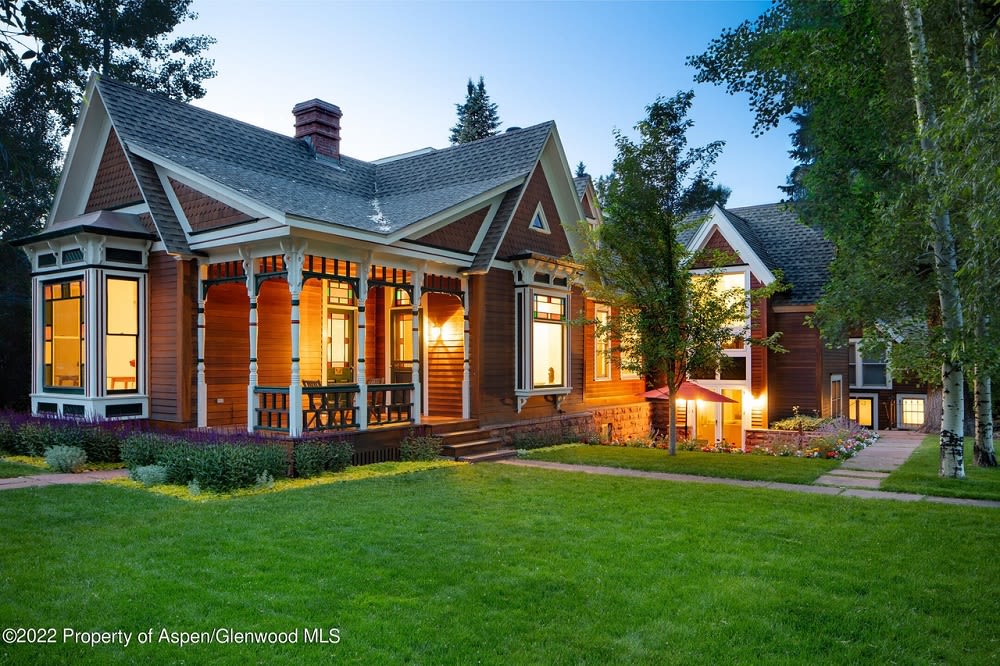 Aspen's West End is famous for its Victorian homes, so much so that you can embark on a guided
Victorian West End Walking Tour
to catch a glimpse of the homes' majestic beauty and learn about its regional history. The beauty of
Victorian architecture
is that its representative of many design styles, each with its unique charm and features. Victorian homes include Italianate, Queen Anne, Gothic Revival, Shingle Style, Stick Style, and various other architectural forms. The cultivators of the Victorian style were born during the Industrial Revolution, using new materials and technologies to build homes unlike any others built thus far.
While the Victorian style does encompass many sub-styles, it still possesses some key characteristics. If you walk among Aspen real estate searching for Victorians and happen upon a brick house with a small distinct tower, it is likely Victorian. They are large estates with elegant features, including high ceilings, multiple stories, round, arched windows at the entrance, and multiple bedrooms. Italianate-style properties have lower rooms with decorative brackets. Goth Revival homes feature diamond-shaped window panes and stone buildings similar to castles. Queen Anne architecture is highly decorative and features expansive porches and distinctive details.
Chalet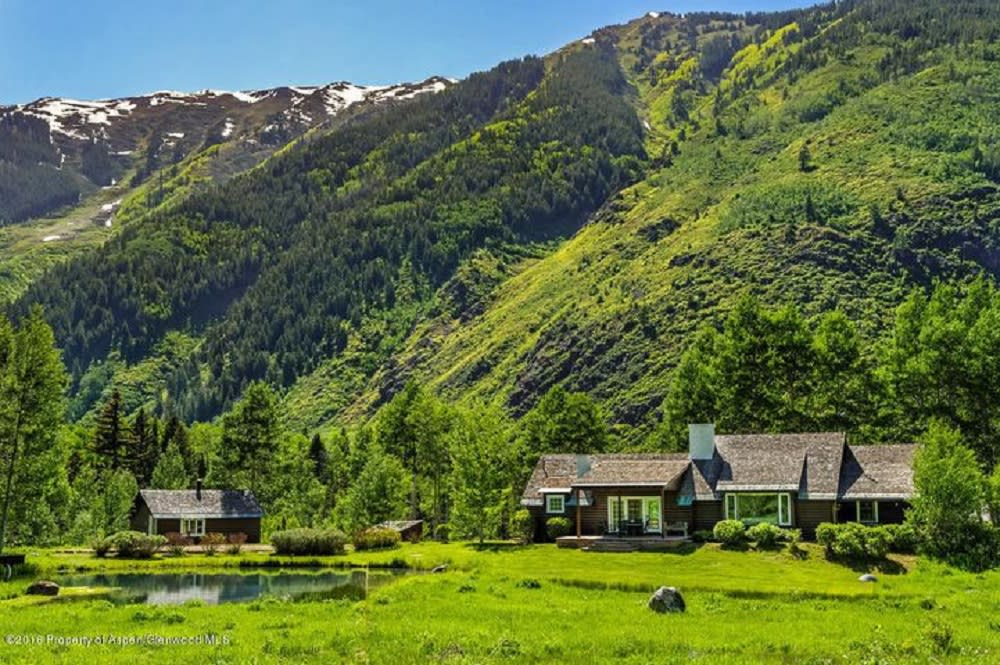 The fall of the silver mining industry in 1893 inspired Aspenites to capitalize on the region's natural landscape — they simply weren't sure how yet. It wasn't until nearly 40 years later, when skiing took the US by storm, that Aspen found its purpose. Tom Flynn, Billy Fiske, and Ted Ryan saw Aspen's potential as a premier ski resort and invested in the Highland Bavarian Lodge, a
Chalet-style
building in Castle Creek Valley. The lodge's development in 1936 was the first attempt to emulate European resorts in Aspen, with many businesses following suit by incorporating Chalet influences into their buildings.
Chalet-style properties must possess specific physical features to reflect their European origins. Some defining characteristics of Chalet homes include moderately shallow roof pitches, horizontal design elements, prominent wood balconies with cut-out railings, and decorative bargeboard trim. Paint color is an essential element in this style, with building exteriors typically painted dark brown with light-colored trim or vice versa. Home exterior materials are stucco and wood. To be eligible for historic designation, a Chalet-style building in Aspen needs to fit a lengthy list of criteria, including continuous porches running the circumference of the building, white stucco bases, and horizontally proportioned windows used sparingly.
Are you currently on the market for Aspen real estate? If you need assistance finding Aspen homes for sale, contact
The Bineau Team
today. Anita and Jim Bineau and their esteemed professional team will provide you with an unrivaled real estate experience that exceeds expectations.